Welcome to Summer Rain's Hercules the Legendary Journeys Fan Fiction Page

---
Currently the fan fiction on this page is slash (m/m) fiction. At some point in the future there may be general fiction housed here.
Because of the adult nature of the stories housed here you must be 18 years or older to view them.

Announcement I have set up a Hercules slash fiction and discussion list. To find out more about the list and to how to subscribe, visit the Hercfic FAQ

Yes I am over 18 and would like to read the stories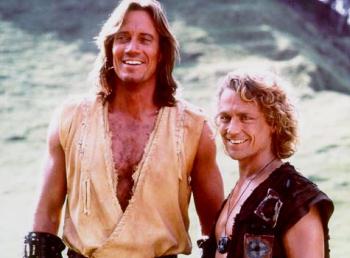 I am under 18 or do not wish to read the stories
---
Wow, there are other Hercules slash sites on the web! Check it out :-)
Herculean Slash
And now another Hercules the Legendary Journey's site and guess what? It's the official
Hercfic List Archive :-)
and also check out the Fan Fiction On the Net Index where you will find the Hercules the Legendary Journeys archive
Amber's Hercules Fic
Miriam's little corner of the universe
There are those of us who have found ourselve enchanted by Joxer the Mighty :-)
To read stories featuring this warrior ;-) check out Miriam's site
---
Disclaimer:Hercules the Legendary Journeys is property of MCA/Universal. No money has exchanged hands for stories appearing on this site it is merely a site for a fan of H:TLJ for the enjoyment of other fans.
This site created 8/22/97